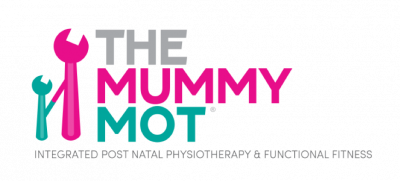 Are you:
A postnatal mum
Concerned about a tummy gap (diastasis rectus abdominus)
Having leakage of urine, gas, or stool; or suffering from constipation
Worried about prolapsed pelvic organs
Having pain in the pelvis or with sexual intercourse since giving birth
Concerned about C-section or episiotomy scarring
Interested in returning to your fitness, function, and energy levels
Passionate about PREVENTING future issues with your body that are common after giving birth
If you answered "Yes" to any of these questions, then a Mummy M.O.T.® may be right for you. The Mummy M.O.T.® is a one hour assessment with Karen Irons, Senior Physiotherapist, women's health specialist, and Mummy M.O.T.® trained health professional which provides a comprehensive screening tool for the state of health of your body after giving birth.
What does the Mummy M.O.T.® involve?
A complete medical history with time to discuss any concerns you may have in relation to helping your body heal
An external physical examination including: postural assessment, functional assessment, musculoskeletal testing
Internal pelvic floor muscular examination to assess the health and performance of your pelvic floor musculature
Assessment of your core musculature and evaluation for tummy gap
Assessment of any scars (if applicable)
Prescription of exercises, stretches and advice personalized for you based upon examination findings
Advice on the treatment, manual therapy, and follow up options for care
Communication with your consultant or doctor if warranted
A better understanding of how we can work together for you to take control over healing your body
What do I do next?
Please call our clinic directly at Chichester Physio Ltd: 01243 783040 to schedule your Mummy M.O.T.® appointment. Please let reception know that you will need a one hour Mummy M.O.T.® appointment with Karen Irons.
Please fill out the pre-screening questionnaire, which you will be sent when you book.
Frequently asked questions:
How much does the initial assessment cost?

The first appointment will last one hour and will cost £95. The need for any further follow up appointments (either 30 minutes or 60 minutes) will be discussed following your evaluation. A 30 minute follow up costs £55.

What should I wear?

Please wear or bring comfortable clothing. The examination is conducted in private. After getting to know you, your physiotherapist may ask you to remove your shirt, shoes, and bottoms during the assessment. If you are agreeable to an internal pelvic floor muscle assessment, underwear will be also be asked to be removed.

Can I bring someone (such as a spouse or partner) with me?

You are very welcome to have the support of any loved ones attend part or all of your examination with you.

How soon can I have an assessment?

You can have a Mummy M.O.T.® assessment at any time BEFORE or AFTER giving birth. Please be aware that any internal pelvic floor examination will not occur until at least six weeks following delivery of your baby. Also, if you are currently pregnant, an internal pelvic floor muscle exam will not be done.

It has been a while (several years to decades) after I have given birth. Can I still have a Mummy M.O.T.®?

Yes-it is never too late!

Do I need a referral or should I see my GP first?

No, you do not need a physician or consultant referral. It is important to communicate between your health providers, therefore if you need any reports sent to other health providers, then please let your therapist know.

Can I bring my baby or small children?

It is preferred that you make arrangements for child care during your appointment. We understand that this may be difficult and we will fully support you if you need to bring your new bundle of joy with you. However, it is equally important for you to take this time for your yourself to focus on YOU.
Book now by calling the clinic on 01243 783040