Sarah Waters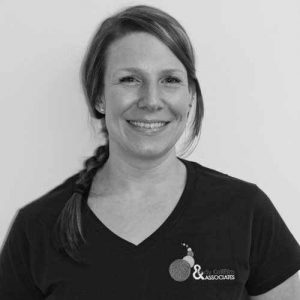 Senior MSK Physiotherapist, Pilates Instructor, Sports Masseur & Acupuncturist
Sarah graduated from the University of Hertfordshire in 2008 with a BSc (hons) in Physiotherapy and did her junior rotations in Ipswich. She moved to Hampshire after meeting her husband Robbie, where she specialised in MSK physiotherapy. Sarah has two young children and feels that they have aided her development as a clinician as time management, compassion and patience are essential! 
Sarah worked for Southern Health NHS Trust, where she became a senior MSK out-patient physiotherapist, treating a wide range of conditions. During this time, Sarah also ran back rehabilitation classes and treated patients with acute and chronic pain. She did an apprenticeship in pain management to enhance her treatment of those with more complicated chronic pain issues. Sarah also trained in APPI Matwork Pilates and ante/postnatal Pilates, which has enabled her to teach classes and expand her physio rehabilitation skills.
Sarah has worked in private practise and at Spire Portsmouth, seeing a wide variety of sports injuries, orthopaedic and MSK patients for several years before joining Chichester Physio Ltd.
Sarah has a special interest in treating spinal conditions, seeing them through from acute presentation to regaining function and achieving patient centred goals. Qualifying in AACP acupuncture has really helped her daily practise too.
She believes that listening is the key to helping people move forward with injuries and recovery.